I've been a happy hooker since I was in grammar school. That is to say, I love to crochet. I find it less stressful than knitting and easier to do in a spontaneous way. I remember making a shell stitch scarf when I was in 5th or 6th grade. Now many scarves, afghans, toys and booties later, I'm making a blog to share my love for crochet with you. (All photos and text Copyright Fayme Harper 2009-2012)
Sunday, December 12, 2004
Posted by

Fayme Zelena Harper
at 11:18 PM
No comments:


Here's my 2nd bear, all ready to go.

Posted by

Fayme Zelena Harper
at 11:16 PM
No comments:


Thursday, December 09, 2004
The first time I sewed the tail on it was too high and off-centered. I can see it's going to take some practice to get everything just right.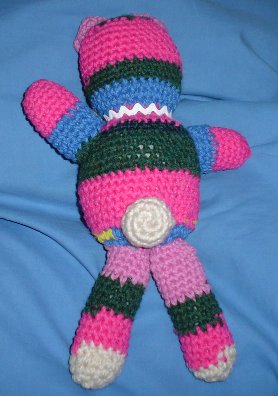 Posted by

Fayme Zelena Harper
at 11:48 PM
No comments: